Volubilis Excursions
Volubilis day trips are one of the most popular ways to experience the city. Since all of our day trips are private, you will have that added convenience and flexibility. Having much of the Volubilis day trip organised for you and having the chance to see these spectacular ruins is going to make for an interesting time regardless of the small details.

You'll want to bring your camera with you when on our Volubilis day trip. Standing next to buildings over 5000 years old will be a profound experience for you, and is something you're sure to want to capture on film so you can relive the it again and again. You'll also want to bring water with you on your trip as the city's temperatures can rise quite high and the atmosphere can become increasingly humid.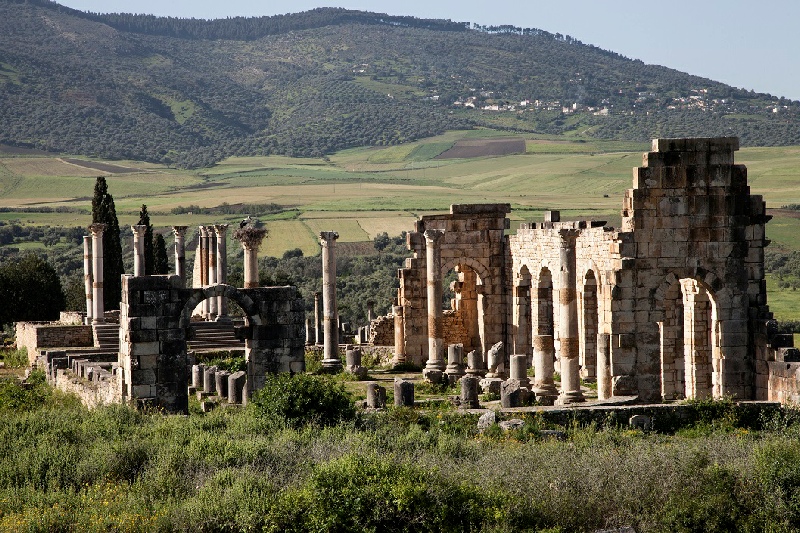 Fes to Volubilis
Volubilis Guides
Volubilis Tours
The ruins have featured in several major films, but now serve mostly as a backdrop for spectacular holiday snaps. Temperatures reach 30c+.
private vehicle
You won't have to share your car with anybody else because all of our day trips are private. This gives you more flexibility and convenience.
ruined city
There are now so few places on earth with well-preserved Roman ruins like in Volubilis. Some of the buildings are over 5000 years old!
Volubilis taxi prices
Reserve your private transfer or day trip securely through our site. We cannot accept bookings by email.
Volubilis Day Trip
As you can imagine, all of Volubilis' main attraction revolve around the ruins. The stone work and the marvelous mosaics are worthy of most of your attention. You'll find your eyes locked on them for the duration of your stay in the city. Some are in better condition than others. But ultimately, it's the entirety of the site that is so impressive.
Volubilis Guided Tour
Volubilis was likely chosen by the Romans because of its fertile land and discreet location.
The first occupation of Volubilis predates the Romans though by a couple of thousand years. In fact, historians believe Volubilis was inhabited over 5000 years ago. Old pottery remains found in the area suggest it was home to one of the world's earliest civilizations.
The city was under Roman control for hundreds of years until they were eventually forced out. Soon after, the Arabs arrived to stake their claim to the land in 708 AD. The area remained an important location throughout the Islamic era, which marks the time the first Muslims set foot in Morocco.
By the 14th century, it's believed the city was unoccupied. The Romans had long since left, and the Arabs too had decided to move on and go elsewhere.
In the 17th century, the city was unfortunately ransacked by Moulay Ismai in order to make room for new architecture. Despite this ransacking, many buildings survived and can still be seen to this day. In 1755, more back luck struck. An earthquake devastated many of the old buildings, wiping out complete structures. Thankfully, there are still sights to see in Volubilis such as archways, pillars, and a large aqueduct and drainage system.
Volubilis is now popular with students and lovers of history. There are no longer fights for the land. Instead, archeologists only fight against the elements to protect what is left of this ancient site